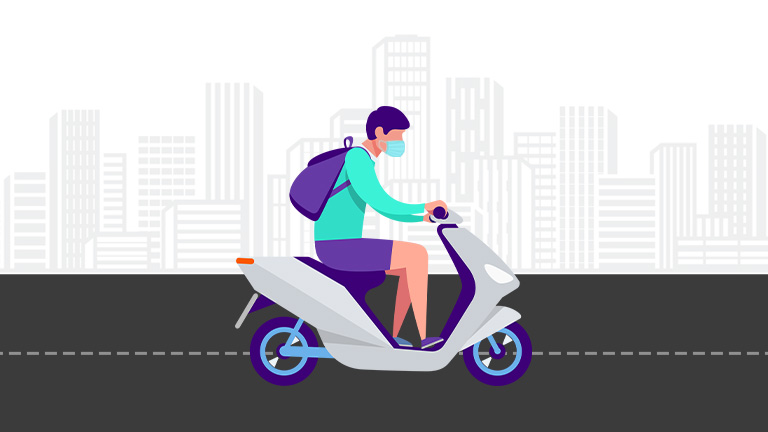 Why renting e-bikes in Pune is the best option during the Covid-19 pandemic?
The COVID-19 pandemic has affected public transport networks worldwide. Public service providers have set rules and even got the necessary protective equipment in order to maintain hygiene standards.
How has coronavirus impacted the transport services?
The coronavirus travel advice has stopped the use of public transport services. All the action steps taken by the Indian Government to ensure the safety of people has actually increased costs. Despite this, the transport in India has seen a huge change as the lockdown got extended.
Considering the transport situation in India, metropolitan cities like Pune, Mumbai, Delhi, Bangalore, Kolkata seem to face more problems during this situation. Talking about the transport service situation in Pune, PMPML is only available for essential services, private cabs service has hiked prices, restrictions in containment zones have hindered transport.
Why is using private transport safer than public transport services?
The reason for this could be a fear of the contagious nature of coronavirus. Given the fact that private transport is much more hygienic, clean, and convenient, a lot of citizens are wanting to rent their own safe bikes. Renting bikes in this situation could be the perfect choice. And there could be a huge demand for rental bikes in Pune and other cities where there is no option for people rather than stepping out whenever needed.
Coronavirus has caused extreme changes in people's daily routines. One of the most significant changes was 'Working From Home', which has not just kept business going but even guaranteed the safety of employees. With respect to coronavirus travel advice, electric bikes on rent could be the better option for traveling in this situation in terms of following social distancing and also it proves healthy to the environment.
Strategic benefits of renting your own electric bikes in these difficult times:
And since we know, the decrease in travel due to coronavirus has decreased the carbon emissions decreased thereby improving the air quality. As an effect of this, people are witnessing clear skies, cleaner water, a decline in pollution levels amongst other benefits, which makes it safe to say that coronavirus has done good to the environment!
These changes have made individuals realize the benefit and importance of using sustainable options, such as renting electric bikes in Pune or big cities where it is of the absolute need to travel. That way it will make the world a better place. With regard to the coronavirus travel advice, people have realized that using safe electric bikes is the future.
Electric bikes are definitely the future for a market like India, specifically for India as it has the highest number of bike users in the world. Electric bikes are a clean, and quick way to get around the city. Using/renting a safe electric bike helps in contributing to the ecological spirit as it boosts 'green transportation'.
Moreover, electric bikes work on rechargeable batteries which makes renting the electric bike very affordable. While saving money on petrol, people can easily and inexpensively go to places without producing carbon emissions.
Rented electric bikes have very low maintenance as there is no need to spend time or money on tasks like oil changes, filters, etc which makes the whole process easy. Overall, it is evident that electric bikes are not just environment friendly, but are safe and flexible to use too.
Why should you Shride? Know the details:
Taking a step ahead for the benefit of India and promoting the 'Go Green' concept, 'Shride' is a brand new but affordable and flexible electric bike rental in Pune. May it be for running errands, or going grocery shopping, or even going to work, Shride allows you to take on an electric bike on rent in Pune- whenever and wherever you need.
Shride's zero deposit upon booking, affordable pricing strategies, home delivery of bikes, and 24*7 assistance makes its services exceptional. But the most attractive service is that to rent Shride electric bikes there's no need for a driving license or no restrictions on age. Shride offers home delivery of fully sanitized bikes for rent all across Pune. Apart from that, a 3 layered mask and a helmet is given too- to ensure safety.
In these tough times of coronavirus, by renting an affordable and safe electric bike, you can step out of the house without fear as this option is much safer and convenient than using public transport. Efficiency, Integrity, Effectiveness, and Teamwork are at the heart of what we do, and our unique services will surely provide you with a satisfying electric bike renting experience.
We provide services for renting electric bikes in Pune itself for now. Traveling coronavirus advice states to use a safe electric bike. However, along with that rental electric bikes help to keep nature green and pollution-free.
Want to Shride? Now you can!
To use the Shride, rental electric bikes in Pune, Download our mobile app, book a ride, and experience it as soon as possible!